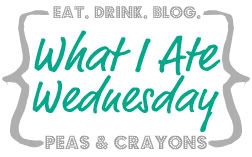 Breakfast:
Did you know that Chex now has a whole LINE of gluten free cereal? I was so excited to have cereal again without wanting to die afterward.  It's almost as good as cinnamon toast crunch.
Monday for lunch I had a peanut butter & jelly with some chocolate milk. Ya know, in honor of

National PB&J day

.
I have to brag about my chowder again. It was so good, the husband and I both had multiple bowls last night.  Did you see the recipe

here?